XTAR VC2S Battery Charger
US $24.26
In stock
Free Domestic Shipping On Orders $125+
Trusted Authorized Distributor
Lowest Prices
High Security Payments
XTAR VC2S Battery Charger
A breakthrough innovation, XTAR VC2S Battery Charger is a smart charger that has countdown timer for each bay showing the time it needs to fully charge the battery. It can recognize, charge, and display both Ni-MH and Li-ion batteries at the same time and you can take control of the charging speed (0.5A/1.0A) as you like. In order to save time, the USB Output with Power-Path Management System enables you to charge both batteries and an external device at the same time while power is connected!
Includes:
(1) x XTAR VC2S Battery Charger
(1) x USB Cable

(1) x Hop Pocket Storage and Travel Bag
(1) x User Manual

(1) x Warranty Card
Requires: A 2A USB Wall Charger For Full Performance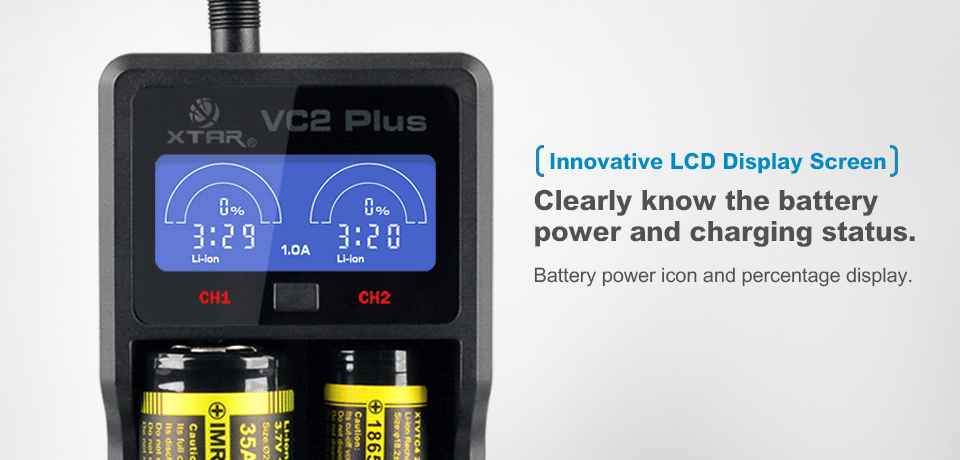 Features:
Count Down Timer Function Saves Time By Planning Ahead, Displays How Much Time Is Left To Fully Charge Your Batteries
All Channels Are Independent
Temperature Monitoring Keeps Your Batteries Cool During Charging
Compatible with Li-ion / IMR / INR / ICR 10440, 14500, 14650, 16340, 17335, 17500, 17670, 18350, 18490, 18500, 18650, 18700, 22650, 25500, 26650, 32650 3.6V and 3.7V

Compatible with Ni-MH / Ni-CD AAAA, AAA, AA, A, SC, C, D
Innovative LCD Screen Displays Battery Power and Charging Status

LCD Backlight Dims Automatically and Can Be Fully Turned Off
Charge Li-ion and Ni-MH Batteries At The Same Time
0.5A and 1.0A Charging Current, Just Insert in the Slot to Choose the Current Best Suited to Your Batteries
Power Path USB Management System Allows Charging Both Batteries and An External USB Connected Device At The Same Time Directly From The Power Adapter and Not From Discharging The Batteries
USB Charging Port Allows You To Charge Everywhere, Compatible With All 5V USB Power Sources Including USB Wall Adapters, Cell Phone Chargers, Solar Panels, PC USB, Power Banks, etc. *Recommended 5V / 2.1A Power Source or Above to Maximize Efficiency

Employs Battery Life Optimization Charging Algorithms, Accurate Cut-off, Quick Charging and Never Overcharge Batteries

Elaborate Heat Dissipation Design Keeps Charging Temperatures Impressively Low
0V Activation Function Revives Low Voltage Batteries, Bring Over Discharged Batteries Back to Life
Certified by CE, RoHS, FCC, Uses Low Voltage Safety Technology, Temperature Monitoring, Flame Retardant Materials, Reverse Polarity and Short Circuit Protection
2 Year Manufactures Warranty
Technical Parameters:
Input Power: 12V DC / 2.1A
Cut Off Voltage: Li-ion 4.2v (+/- 0.05V) / Ni-MH 1.40v (+/- 0.1V)

USB Output: 5.0V (+/- 0.25v)
USB Max Output: 1000mA
Operating Temperature: 0-40C
Net Weight: 115g
Dimensions: Length 131mm, Width 66mm, Height 33mm
Look For The Authorized Logo!
Always look for the Authorized Logo to ensure you are buying a Genuine XTAR VC2S Battery Charger. Don't take chances with your health and safety, the advantage of buying from an authorized distributor is you will always get an Authentic Genuine XTAR VC2S Battery Charger Direct From The Manufacture. You will also be fully covered by any manufactures Warranty and you will receive the best service possible.
Disclaimer: PlanetHaze is not responsible for any damage or personal injury caused by or from using our products. Glass is breakable and sharp, please use accordingly.
Only logged in customers who have purchased this product may write a review.